November 27, 2020
"Bob Malley Day!"
Saturday, November 28
FREE LEMON CREAM DONUT
Happy 86th Birthday Bob Malley, Donuts Delite Founder!
(Rochester, NY) The Donuts Delite and Salvatore's Pizza Family officially declare November 28th as "Bob Malley Day". To celebrate the 86th Birthday of the Original Donuts Delite Founder Bob Malley, a FREE Lemon Cream Donut will be given away with any purchase on Saturday, November 28, while supplies last. The Donut will feature a drawing of Donuts Delite Founder Bob Malley or the infamous Dan Delite logo, and is filled with a lemon cream.
That's Right... TOMORROW, SATURDAY NOVEMBER 28... STOP INTO DONUTS DELITE FOR A FREE DONUT!!!
Bob Malley and his father Jim opened Donuts Delite on the corner of Empire and Culver in 1958. The Malley Family traces their baking heritage in the Rochester, NY area all the way back to the 1860's at local bakeries. Over the years, the Malley Family children were a part of Donuts Delite from 1958-2005.
The Salvatore's Pizza Family acquired the then-closed landmark, and with the help of Bob Malley and his son Michael, they recreated all the original donut recipes from 1958. Salvatore's at the Historic Donuts Delite Building opened in 2010. Nick Semeraro is the location's Owner/Operator, and still to this day gets spot inspected by Bob Malley to make sure the original recipes are up to the Donuts Delite Finest standards!
"We want to wish a very Happy 86th Birthday to Bob Malley, the founder of the iconic Donuts Delite brand!" said Nick Semeraro, Owner/Operator, "We would not be here today if it weren't for his years of hard work and dedication, he is truly a Rochester Legend, and we are honored to give away free donuts in his honor."
"Bob Malley Day will be celebrated for years to come!" said Salvatore SoccerSam Fantauzzo, CEO of Salvatore's Pizza, "Happy Birthday Bob, the entire community of Rochester can celebrate you with their free donut!"
Donuts Delite is open starting at 6am for take-out, curbside and delivery. A FREE 'Bob Malley Birthday" Donut will be given away on Saturday, November 28th with any purchase.
*Donuts Delite is also fundraising for the Pancreatic Cancer Association of WNY, selling Purple Pancreatic Cancer donuts to benefit the non-profit organization. These donuts go on sale today, and are available until Monday. Stop by Donuts Delite to purchase your PCAWNY charity donut on Saturday... and receive a BOB MALLEY BIRTHDAY DONUT to go along with it!
DONUTS DELITE
EMPIRE @ CULVER (1700 CULVER RD)
288-5555
SATURDAY, NOVEMBER 28 ONLY!!!!
FREE DONUT!
(FOUNDER BOB MALLEY'S 86th BIRTHDAY LEMON CREAM DONUT!)
FREE LEMON CREAM DONUT ON SATURDAY NOV 28!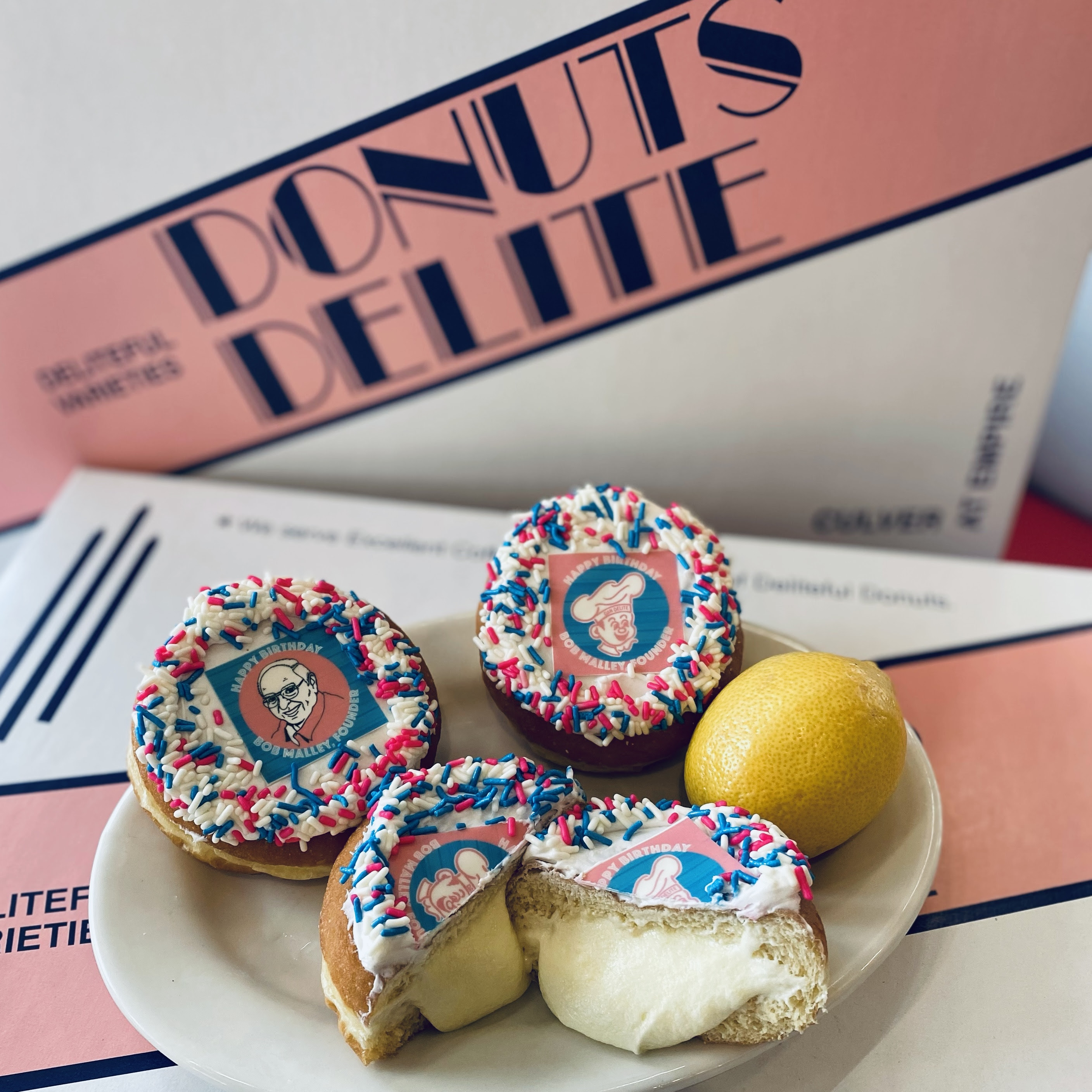 Donuts Delite Founder, Bob Malley. HAPPY BIRTHDAY!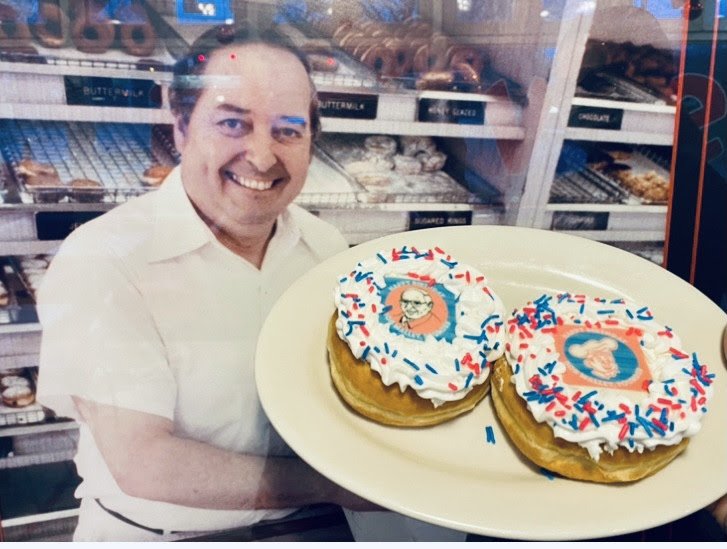 Donuts Delite Through the Years!
Thank you, Bob!
HAPPY 86TH BIRTHDAY!
Happy "Bob Malley Day!"